Welcome to Cute Baby Photography. My name is Aneta, I'm wife and mum to three kids. My passion for photography came after the birth of my children and I'm so thankful to my family that have put their trust in me and have been with me from the begining. I'm so happy that I can do what I love and combine working with motherhood. I'm lucky to have what I have…my passion will never die!
It has been nearly 8 years since I started this business and I love it more and more each time I get the opportunity to snuggle with a new baby. I've met some amazing people along the way – fellow photographers who support and encourage me – and clients who inspire me. As some of you may know I love to photograph newborns – how could I not? I love their innocence, pure, simple and softness. There are no words to express what I feel as a newborn photographer when I create beautiful memories of the most amazing moments of new life. I'm still learning but I always will be – I don't think that I will ever feel like I know it all! I've had many occasions to learn techniques to make your session all that you dream of. All parents who come to me are entrusting me with their new baby. If you can choose between someone who knows a little bit about everything or someone who knows a lot about a specific category in photography, who would you pick for your family and for your new baby?
In closing, I would like to say THANK YOU to all our clients for choosing Cute Baby Photography and trusting us with their most precious thing in their life!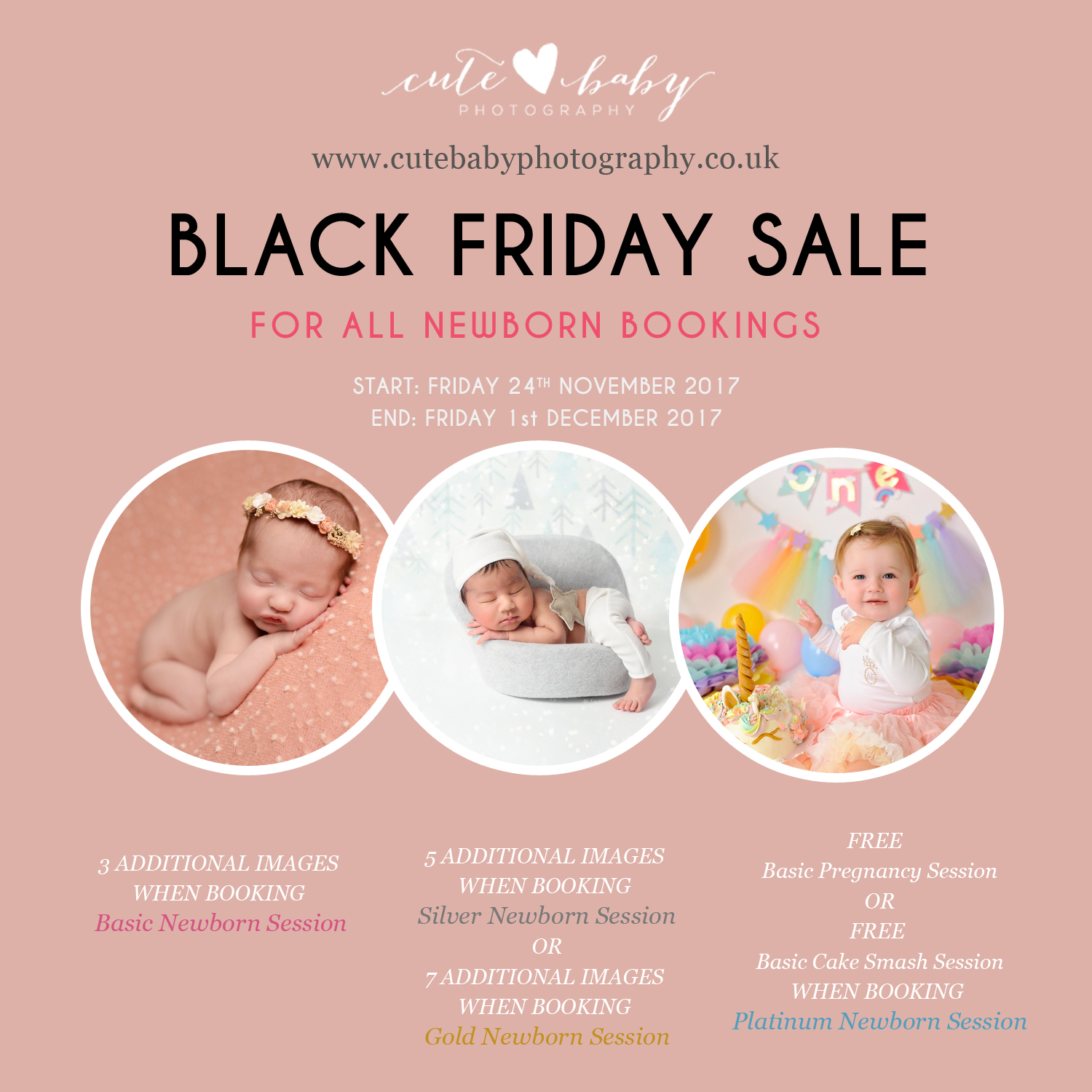 We wanted to have a Black Friday Sale for all of our Website & Facebook followers. This deal is HUGE and you don't want to miss it! Use it for yourself or a great gift for a loved one this season!
To make your purchase email us before1st December Friday 11:59 pm with request to purchase a Newborn photography Session. We will send you all information you will need to book with in the next 24 hrs payment must be made to book your session.
If you know someone who is expecting and due in 2017/2018, let her know that now is the time to take advantage of this once a year limited time offer!
"everything is personalized, that's
what makes the custom photography
experience so special."
Please have a look at our packages and detailed prices here.
Safety of our newborn models is our priority so please have a look what we do to keep them safe at all times.
We understand you have probably many questions so we prepared this little guide. Hopefully we could answer at least some of them.
Great way to celebrate your baby's first birthday.